$ 13.99 $ 27.98
Want a tool that can do anything without creating bulk in your pocket?
This ultimate 18-1 Multi Tool is a most have in your pocket, your tackle box or your glove box! The small size of the tool make it so you can easily stick it in a pocket, purse, or tie it up to a travel bagor attach it to a key-chain.
Each point to the star has a different tool head on it so whatever situation you find yourself in without your toolbox, you can be confident that your star multi-tool will save the day!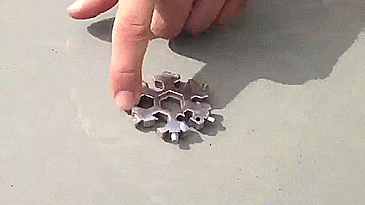 Features:
One-word screwdriver, Phillips screwdriver 2#, 3# hex wrench 3,4,5,6,7,8 screwdriver hex wrench 6,7,8,9,10,11,12,14
MULTI-TOOL:One Multi Tool contains incredible 18 tools.
SMALL SIZE:Only 2.3 ounces and just over 2 " diameter, unique snowflake-shaped design, easy to carry.
APPLICATION:It can tighten the screws, open the cap, repair snowboard, bike, toys and much more.
PERFECT GIFT: It can also be hung in the keyring, backpack or in every car !
Package included:
- 18 in 1 Multi-tool (color of your choice)
Get this 18 in 1 Multi-Tool 50% OFF Today + FREE Shipping when you spend $50!
**Due to an increase in Social Media attention, this 18 in 1 Multi-Tool is high in demand. Please allow 2-4 weeks for shipping and handling**